New Portable Neck Fan
Regular price
£29.90
Sale price
£19.90
Unit price
per
COMPACT AND PORTABLE, TAKE IT AND GO 💨
The best outdoor fan will bring you a cool and refreshing breeze in this hot summer !
Discover this new neck fan that can send the wind without obstructing your hands by simply placing it on your neck ! 
The EarSkin fan has been designed as a headset to free your hands anywhere. The trendy style makes you look so cool and you can take it everywhere. It's the perfect companion for working in this hot weather!
Refresh yourself without any difficulty, anywhere...
j
THIS IS THE BEST OPTION FOR YOU

⭐
✓

 100% SECURE :
Designed without wings, it is safe for use by children and the elderly. When using the fan, you don't have to worry about your hair getting caught on the fan blades. With its
42 air outlets
around the neck, it can be used for the entire face, producing enough air to keep you
cool at all times.
✓ 

LOW NOISE & COMFORTABLE DESIGN : The fan motor of the portable neckband has been modified so that noise levels of at least 25 db can be generated during operation to provide you with a quiet and cool environment. It will be more than enough to hear your own breathing !
✓

COMPACT DESIGN AND WARRANTY 

:

 The EarSkin neck fans weigh approximately 7.01 oz and are ultra-lightweight, reducing pressure on the neck in all circumstances. It is made of ABS and environmentally friendly silicone.
✓
2 TO 8 HOURS OF OPERATION AND 3 SPEEDS : 
It provides a working time of 2 to 8 hours (depending on the different speeds). The minimum wind power of 3000ma can be used for 8 hours, the maximum wind power can be used for 4 hours. Set the appropriate fan speed by pressing the power button several times.
✓
UNIQUE OFFER :
 For the summer sales, benefit from a 50% discount and free delivery.
✓

WIDE RANGE OF APPLICATIONS : A use ideal for indoor and outdoor activities such as the office, underground, travel, camping, hiking, or a study room.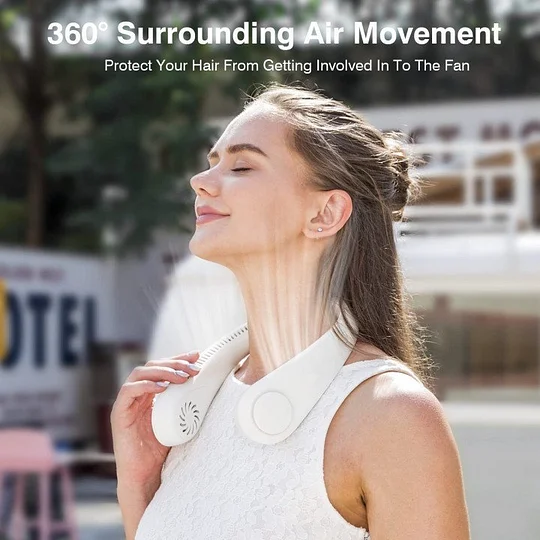 NO LONGER FEEL HOT... ❤
The EarSkin neck fan is also a great gift for your friends and family who need it in these hot times! Take advantage of a 50% discount on the summer sale now !
A dedicated support team is available 7 days a week to answer all your questions:  
contact@proearskin.com
o